Siobhán is a CPU Mii in Wii Sports Resort.
Her skill in Table Tennis is around 1440+ and is skilled at it. She is the first player of the 600 mark in Swordplay. In Basketball, she is a near Pro in Shinnosuke's team with Saburo. Siobhán's skill is 883. Which is almost PRO
Siobhán is a Standard CPU in Wii Party.
Trivia
Siobhán is an Irish female name, which is strange, considering most CPUs in the Wii games have names of English, Japanese and Spanish descendance. This makes her unique in a way.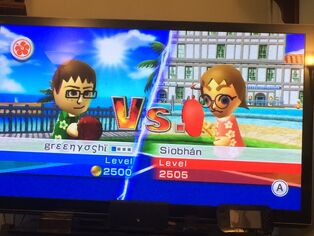 Ad blocker interference detected!
Wikia is a free-to-use site that makes money from advertising. We have a modified experience for viewers using ad blockers

Wikia is not accessible if you've made further modifications. Remove the custom ad blocker rule(s) and the page will load as expected.