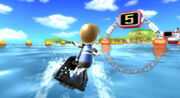 Here are all
Stamps
listed in
Wii Sports Resort
-
Power Cruising
.
Ringmaster:
Go through every single bonus ring on one course. It doesn't matter which course you do it on.
5,000-Pointer:
Get a cumulative score of 5,000 points overall.
Power Cruiser:
Score 170 points or more on all courses.
Power Jumper:
Go through all the bonus rings in the final course.
Leisure Cruiser:
Find all the time balloons in one run in single-player Free Cruising mode. You have to complete the Slalom Course afterwards to get the stamp. Not available in multiplayer mode.
Ad blocker interference detected!
Wikia is a free-to-use site that makes money from advertising. We have a modified experience for viewers using ad blockers

Wikia is not accessible if you've made further modifications. Remove the custom ad blocker rule(s) and the page will load as expected.