New Town is a town on Wuhu Island. It is one of 80 Interesting Sites in Island Flyover mode in Wii Sports Resort. It has several buildings, some of which are cottages that residents live in. It is a five minute walk away from the main city and port, where The Queen Peach is docked.
Geography
New Town consists of a few tiny cottages with trees scattered around.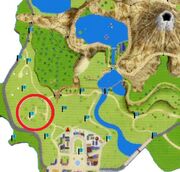 Trivia
When you fly over at nighttime, the tune when Mario dies in the Super Mario Bros. games is played.
Ad blocker interference detected!
Wikia is a free-to-use site that makes money from advertising. We have a modified experience for viewers using ad blockers

Wikia is not accessible if you've made further modifications. Remove the custom ad blocker rule(s) and the page will load as expected.