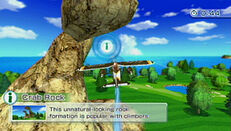 Crab Rock is a giant rock formation on Wedge Island and can be seen from Wuhu Island. It stands right beside The Nineteenth Hole Hotel and is popular to climb for people who stay at the hotel.
Ad blocker interference detected!
Wikia is a free-to-use site that makes money from advertising. We have a modified experience for viewers using ad blockers

Wikia is not accessible if you've made further modifications. Remove the custom ad blocker rule(s) and the page will load as expected.