Wii Sports Boxing Fast KO @ Level 3124
Description
Boxing is one of the five games featured in Wii Sports.
The objective of Boxing is to reduce your opponents Hairline meter and get a T.K.O. to win the match. In order to get a T.K.O. the player must weaken the opponent and then knock him/her on the ground. The opponent must stay on the ground for 10 seconds to win the round. The player has 3 rounds to accomplish this.
Gameplay
Gameplay involves holding the Wii Remote and Nunchuck like Boxing gloves and thrusting the controllers as if punching an opponent.
How to get Silver gloves
You can unlock the silver gloves when you defeat
Matt
with the normal gloves. Before
Boxing
you press the
1 Button
. And when the Boxing starts you have
silver gloves
.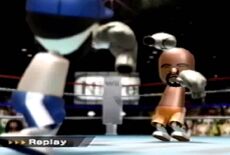 Starters
Matt: Champion 1500-1550
Strategies
Try to get a clear shot to the front, then come around the side.
Move back and forth and when your opponents fist moves in slow motion strike them.
Dodge whenever you can so you don't get hit.
Boxing
returns as a sport in
Wii Sports Club
with many changes. The outside of the ring has changed to seat more people and there are now assistants cheering for the playings beside the ring and before a new round starts, they give the
Mii
water and spray them. The outfits of the
Miis
have changed,
Miis
now wear boots, and now all
Miis
wear vests regardless of gender. The first
CPU
is
Matt
 and the
champion
is
Pit
.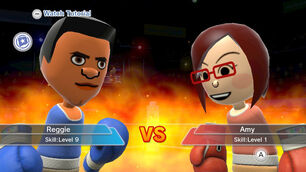 CPUs in order of level
Starters
Level 6: Sophia, Mitsu, Adrien
Level 8: Xiao-Tong, Pedro, Se-young
Level 10: Xue-Ren, Hee-joon, Carlo
Level ★2: Jesús, Enrique, Laura
Level ★4: Giulia, Hyun-woo, John
Level ★5 (These CPUs are faced at Level ★4, but when the player gets to Level ★5, they have to face the champion): Gerald, Rie
Level ★6: Dunbar, Massimo, Patricia
Level ★9: Claudia, Maximilian
Level ★10: Pit (Champion), Xiaojian, Pavel, Susie, Jianjun, Jin-ah, Bowen, Marit, Mark, Dylan, Cristina, André, Barbara